Sasha Doran is the daughter of Gavin Doran and Olivia Doran.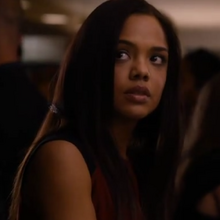 Olivia reveals to Jane that her daughter Sasha was killed in a car accident nearly ten years prior to the series, and her death apparently still affects Olivia to this day.
After a lunch outing in The Dead Don't Stay Dead, Jane learns that Sasha's death apparently wasn't accidental: she deliberately drove into a wall with her car. The episode then ends with Olivia burning Sasha's things, including a letter to her from her daughter just before her "death".
The letter included an accusation, calling her father evil. It also may have read that this was the only way out, or that there was no other way out. She obviously knew about Gavin's role and didn't want to stay around and be part of it.
But in fact, she faked her own death, waiting during ten years to finally launch her plan to destroy Gavin, using Victor Shaw. Sasha is posing as a media consultant named Laurel Harris who associates with Henry.
Community content is available under
CC-BY-SA
unless otherwise noted.