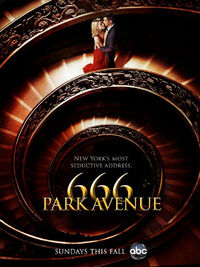 Only a little over a week until 666 Park Avenue airs on ABC!!! The premiere of the pilot is 10/9 central on September 30, and, from the look of things, it is going to be a pretty exciting beginning!
As we all know, the show was based on the book by Gabriella Pierce with the same name. In the book, a young architect named Jane Boyle moves to New York (from Paris of all places) to start a new life with her fiance, Malcolm. And when she meets his family, things get interesting and Jane finds herself with magical abilities. In the TV version, a young couple move into the historical Drake building as resident managers, but do not know that its residents may be possessed by an external force.
Although it goes along a slightly different storyline than the book, the trailer shows that the show will be just as exciting and supernatural! With that said, here are the predictions we have for this season!
There is definitely supernatural stuff going on at The Drake with Gavin Doran at the heart of the problem. We are assuming his wife Olivia Doran will be just as bad to the bone, and, if she's anything like the evil characters Vanessa Williams has had to play in the past, there are guaranteed to be some juicy events!
Poor Jane Van Veen seems to get the idea that there are weird things going on, but it doesn't seem like her boyfriend/fiance/whatever he is Henry Martin really has any idea. We think he will probably get a very rude awakening at some point during this season about what's really going on at The Drake.
Brian Leonard is a married man, but it seems like he's interested in the woman next door, Alexis Blume. Some steamy, soap opera like moments are ahead!
Although the main place is The Drake, I'm sure there will be a lot of stuff going on outside the hotel, especially since the people who live inside are promised by Gavin that their deepest desires come true – but at a cost greater than Upper East Side rent. We will probably see a lot of what they get and the terrible costs!
Trailer

Be sure to tell us your own predictions/thoughts about the upcoming season of 666 Park Avenue!!
---
---